Copyright © All rights reserved.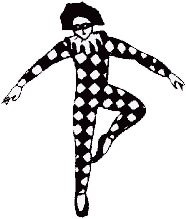 Harlequin Gymnastics Club
Harlequin Gymnastics Club, competing nationally & internationally, teaching gymnastics, promoting health & fitness in Romford, Essex for over 30 years.
Our full time premises have a permanent full sized sprung floor, dedicated gymnastics equipment, with tumble track, foam/sponge landing pit, vaults, uneven bars, balance beams etc.
We have classes and training sessions in Sports Acro and Women's Artistic. Training levels are: Pre school, Recreational and Elite Competition Teams. All classes are under the direction and guidance of our qualified British Gymnastics coaches.
Our waiting list is currently closed and will soon be open for beginners at easter
Pre school - toddler classes for the younger child teaching gymnastics for kids.
Recreational - gymnastics for fun, health & fitness maybe with a view to competing later.
Elite competition teams - performing to judges and audiences nationally and internationally.
What is Sports Acro?
Previously known as Sport Acrobatics (with Acro being the shortened name of Acrobatics). Sport acrobatics is now more commonly knows as Acrobatic Gymnastics.
Gymnasts work with a partner or partnerships, performing routines to music. The moves are highly acrobatic routines that combine tumbling and somersaults with dance. The gymnasts have incredible balance, strength and flexibility.
Not yet an Olympic event, but Sports Acrobatics were performed at the opening and closing ceremonies of the London 2012 Olympics. This strengthens the case that Sports Acro will replace Rhythmic Gymnastics sometime in the near future.
What is Artistic Gymnastics?
Vault
(Men's artistic women's artistic)
The gymnast runs along a runway building speed onto a spring board and vaulting over the table (tongue) with somersaults and twists before landing on the other side in a standing position
Floor exercise
(Men's artistic women's artistic)
The floor (spring floor) is a carpet covered, foam topped plywood floor supported on springs. It is 40ft square and the spring is to absorb the impact of the gymnast's landings during a 70 second routine of tumbling skills, including elements of dance and acrobatics.
Uneven bars
(Women's artistic)
These are the Asymmetric bars. Two bars 2.4 meters long, made of wood covered fibreglass, set at different heights 2.5 & 1.7 meters.
The gymnast performs a series of swinging and circling moves on the bars finishing with an acrobatic dismount to a standing position.
Balance beam
(Women's artistic)
The beam 16ft long, only 4 inches wide and set 4ft of the ground.
Performing an acrobatic routine between 70 and 90 seconds long, the gymnast adds elements of dance and tumbling, demonstrating balance and flexibility, culminating in a dismount in a standing position.
Harlequin Gymnastics Club
5 Bryant Avenue,
Harold Wood, Romford
Essex. RM3 0AP
01708 374986